Team Building Events
Team Building Workshops for Companies and Groups
Learning together new tools for creation and expression
Singing and playing in a playful and effective way
Strengthening the bond in the group through music and joy.
Percussion, Voice and Movement Workshops for Companies
Music is one of the oldest ways to communicate. Each of us carries within us our own melody and rhythm. Expressing them frees us and fills us with joy.

In this workshop we will use voice, dance and percussion to relax and have fun, finding our deepest rhythm, uniting it with that of the other participants.

You don't need to know anything about music to do this activity, just the desire to play and enjoy. We will work on the connection of each person, first internally, and then as a group.

Aware of the obstacles that accumulate in adult life, I have created this workshop as a vehicle between people and their creativity, their essential being, their child.
In adulthood we forget, or do not allow ourselves to play, to be surprised, to experiment, to make mistakes, to laugh out loud, or to relax completely.

During the hour and a half workshop we will travel through different states, using the tools I provide:
Tools
La Voz
It has been proven that singing causes us to secrete endorphins, which generates a real feeling of well-being and joy.
It helps us to relieve tension, improves our body's immune response, reduces stress and improves our overall health.
It cleans our respiratory tract and corrects our body posture.
The Drums
Playing percussion in a group connects us directly with our inner strength, the most primitive and tribal, and we reach a state of concentration that will effectively help us to transcend our limits, feeling a growing self-esteem.
Doing it as a group, achieves a growing integration in our team and thus subsequently feel greater empathy and confidence in working with each other.
The Movement
With it we reconnect with our body and its possibilities, discovering where or how we need to move.
Moving creatively strengthens our heart, gives us flexibility, strength and endurance; it eliminates stress, increases our energy.
Completely improving our state of mind and aptitude towards life.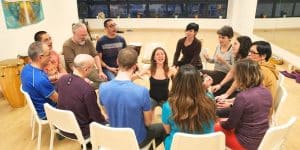 Percussion Classes Voice and Movement in Barcelona
Come try your class today!