CLASSES OF
Percussion, Voice and Movement
IN BARCELONA
Percussion, Voice and Movement Classes in Barcelona

Introductory workshops to music through percussion, voice and movement.
Learn to play, sing and dance naturally.

A dynamic, playful and profound method.

For all ages and levels.
Learn to play drums, sing and dance in Barcelona
---
Music is one of the oldest ways to communicate.
Each of us carries within us our own melody and rhythm.
Expressing them frees us and fills us with joy.

In this workshop we will use voice, dance and percussion to relax and have fun, recovering our deepest rhythm and uniting it with that of the other participants.
The bonds created in this workshop are a fundamental incentive.

Students complement each other, support each other, have fun together, nurture each other's qualities and thus add to their lives a group of friends with whom to share new and satisfying experiences each week.

You don't need to know anything about music to do this activity, just the desire to play, enjoy and learn. We work on the connection of each person, first on an internal level and then on a group level.

Aware of the obstacles that accumulate in adult life, I have created this workshop as a vehicle between people and their creativity, their essential being, their childhood.
In adulthood we forget or do not allow ourselves to play, to be surprised, to experiment, to make mistakes, to laugh out loud, or to relax completely.
This workshop will help you to recover that naturalness and joy in your daily life.
Our Workshops
Where and When?
We are waiting for you!
Percussion, Voice and Movement
---
L: 18:00 h | M: 10:30 h | V: 18:00 h
Percussion, Voice and Movement
---
Thursday: 19:00h
Music and Movement for babies
---
Wednesday: 17.30 h
Percussion, Voice and Movement
---
Schedules to be arranged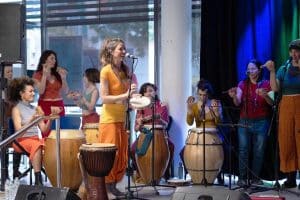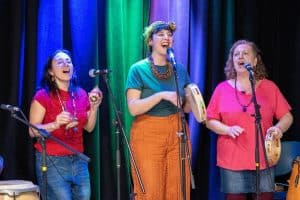 Percussion Classes Voice and Movement in Barcelona
Come try your class today!